Senior Member
Join Date: Jan 2013
Posts: 106
Mentioned: 0 Post(s)
Tagged: 0 Thread(s)
Quoted: 0 Post(s)
Pretty performance from eagerly awaited F Type
---
UK motoring writer Jamie Merrill welcomes a ride in the new, nail-biting Jaguar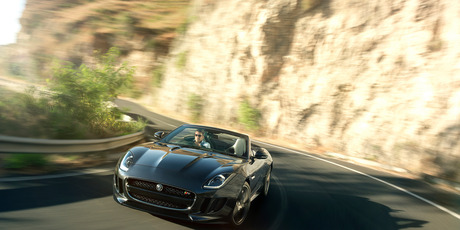 The Jaguar F-Type manufactures have done much of the development work on the challenging roads of North Wales.
How much can you tell about a car by sitting in its passenger seat? Not as much as by driving of course, but the opportunity to take a seat in Jaguar's new F-Type does provide some early indications of what the most eagerly awaited car of 2013 will be like on the road when it goes on sale this spring.
In truth, the passenger ride - normally with a manufacturer's test driver behind the wheel - is a well established tool that car manufacturers' PR departments use to get more coverage before a car is given to journalists to test. And spending three or four hours in the passenger seat isn't enough to really know how a car really performs, but the opportunity to see Jaguar's new two-seater convertible being thrown around by chief power-train engineer Tim Clarke is simply to good to turn down.
Since its launch at the Paris motor show last year, the car hasn't been short of publicity, but in the metal - on British roads with a good coating of Welsh mud - it looks fantastic. It's a car that Jaguar's design chief Ian Callum admits he's wanted to design since he was a boy. And like all the best designs it could be illustrated in one smooth line from its raised rear and spoiler (which pops up at speed) to flared wheel arches and an aggressive front end.
Inside there's not a touch of wood in sight and just the right combination of sharp styling, such as pop-up heaters and carbon fibre, but not too much bling.
It's a pretty car, then, but how does it perform? Again, it's hard to tell from the passenger seat, but Clarke is able to take it to the limits of traction on slippery roads.
It follows the classic sports car formula of rear-wheel drive and an engine at the front.
It will have a three-strong engine line-up; two V6s and a V8. The entry-level will give a 0-100km/h time of 5.3 seconds while the V8 engine in the S specification will hit 100km/h in 4.5 seconds. These are all mere numbers, says Clarke, explaining that 0-100km/h times have almost become meaningless for modern performance cars.
"It's all about how you deploy that power," he adds as he squirts the V6 S we're in out of a damp Welsh bend.
As far as I can tell from the passenger seat, that power is laid down well and with precision.
The ride is firm as a sports car should be, but it isn't overly tough. Thankfully the engineers at Jaguar haven't fallen for the trap of tuning it for Nurburgring - Germany's road circuit so loved by sports manufactures - but have instead done much of the development work on the broken and challenging roads of North Wales.
Clarke and I follow the route of the so-called Evo Triangle - a route made famous by the motoring magazine Evo's performance car testing. They are tough roads with tight bends, hairpins and fast straights and the F-Type acquits itself well in both the V6 and V8 form, but by the sweet note of the smaller engine it sounds like the V6 S will be the sweet spot of power, sound and affordability in the F-Type engine range.
I finish up in the passenger seat with Jaguar chief engineer Mike Cross behind the wheel. "It's important that a car drives like it looks," he says.
The F-Type certainly looks great and by early indications, it feels like it will handle well. Watch this space to find out more in April.
The Jaguar F-Type is expected in New Zealand mid-year with price to be confirmed closer to the date.
-Independent
http://www.nzherald.co.nz/motoring/n...ectid=10864196
Senior Member
Join Date: Jan 2013
Posts: 345
Mentioned: 0 Post(s)
Tagged: 0 Thread(s)
Quoted: 0 Post(s)
I don't agree that you can't tell much from the passenger seat. You should be able to tell acceleration, ride comfort, engine and exhaust sounds, body roll, tire grip, chassis balance.

You need to be a good driver to be able to tell these things of course.. And most journalist sadly aren't very good drivers.